What is the meaning of the word Art?
The meaning of the Italian, French, Spanish, English and German word for art, seems to be more or less the same, the German being maybe the most accurate – Kunst – and indeed the one I favor. It originally meant "knowledge" from its root kennen, "to know".
Art, seen from this perspective contains true knowledge of .  .  .  (painting, sculpture, music etc., fill in the blank with whatever you want) which is its ultimate purpose and meaning. It is a type of Knowledge, higher than intellectual knowledge, which in earlier times only referred to knowledge of God or Inner Wisdom.
Kunst does not suggest craft, trickery or even, in consequence, an illusion of the world. The latter, after all, is only a compositional method as we can infer from the almost total lack of it in both pre-Renaissance painting and in twentieth-century art too. In fact, out of 40,000 years of human art-making, it is only art from 1,200 of those years – and not even in our own time – that resembles exterior vision.
Kunst, therefore, is a far more apt description of perfecting painting and sculpture, or any other craft with inner vision. It describes art's purpose, which was originally meant to elevate the soul.
So Kunst it is! This is how we approach 'Art to Wear'! Creating and perfecting with Inner Vision what you want your image to be.  Thus, when you wear something that you love and enjoy, your image becomes a work of art.  You'll be surprised how much you will enjoy the joyful celebration that happens around you when you dare to Be an Artist and a work of art with what you choose to wear.  Try it, you will like it!  To help you do just that we are yours truly,
The Art to Wear Fairies
A STUNNING WORK OF ART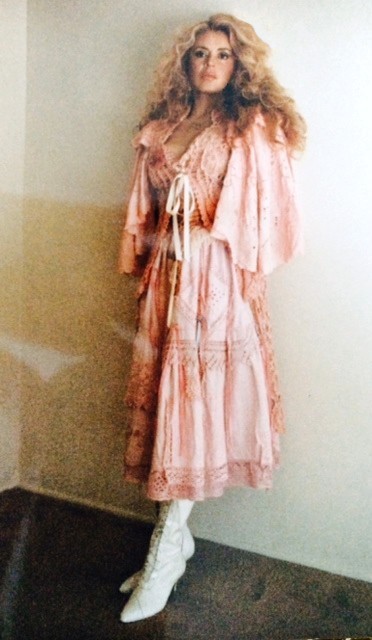 Most artists need to paint on a canvas to give life to their creations.  Not you.  Not in Art to Wear.  All you need is you and to allow your creative self to Be. London 1967, she, without a doubt came from Paris, she felt great, free and creative as the sixties enticed the young to be.  She took a walk in Chelsea, bought this ensemble and caused a big stir!  Yes indeed, fifty-one years ago she painted with her walk a dream in pink, that inspired many others to make their dreams come true.   Her creation was to put together on herself this fabulous pink Vintage ensemble, a stunning work of art strikingly innocent but certainly not prudish, as it revealed ever so slightly what you have underneath.  Someone – a great looking Punk wearing a spectacular Atlantean hairdo with all the colors of a Rainbow, and a perfect Oxford accent – said: 'Lady you are a stunning work of Art! Mesmerizing. beautiful, magical, feminine, creative, inspiring and much more that I can say! Should I go on?'   She smiled and said:  'It's not me!  Anyone can be all of that and more in this Vintage dream ensemble, a stunning piece of art!  Look at it! The coat is a perfect mix of hand crochet and hand embroidered pure Irish cotton in which there's no shortage of creative details to faun over, including floral embroidery and lace appliqués at the shoulders,  all over the skirt, and on the magnificent bell sleeves.  Just slip into it and dare them all not to be inspired!
3 Piece Vintage ensemble $5,000  –  Also sold separately  – Coat  $3.500  –
Camisole  $ 350  –  Skirt  $1.500
Coat Details on shoulder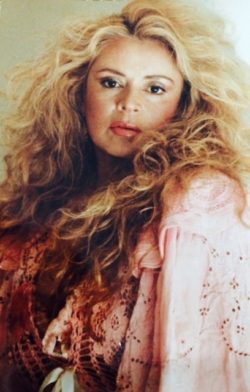 Pair of Pink Enamel on 14 k gold Butterfly earrings especially made to go with Pink Ensemble. (one shown) Price  $350.00
Details